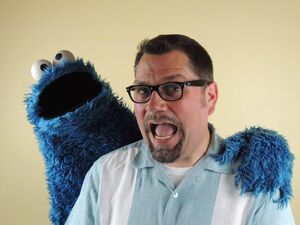 Jay P. Fosgitt (b. 1974) is an illustrator and comic book artist. His first cartoonist work was on Dave Álvarez's comic book, Yenny. His subsequent works include the My Little Pony: Friends Forever series, select Marvel Comics and Dead Duck and Zombie Chick, characters of his own creation.
Working with Ape Entertainment, Fosgitt contributed to the Sesame Street comic book series, including "Little Castle Built By Prairie" and "The Count Counts" for I is For Imagination and the cover art for Another Sunny Day. Fosgitt also contributed artwork for the 2016 book, Jim Henson's Labyrinth: Artist Tribute.
Notes
In the back of his original comic book Bodie Troll, Jay dedicates the comic to Jim Henson, his "lifelong hero."
External links