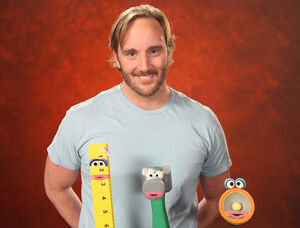 Jay Mohr (b. 1970) is an actor known for his work in Jerry Maguire, Ghost Whisperer, and as a featured player for two seasons on Saturday Night Live.
He appears in Sesame Street's 43rd season, presenting the word "tool" with a trio of Muppet tools in a Word of the Day segment.
Ad blocker interference detected!
Wikia is a free-to-use site that makes money from advertising. We have a modified experience for viewers using ad blockers

Wikia is not accessible if you've made further modifications. Remove the custom ad blocker rule(s) and the page will load as expected.