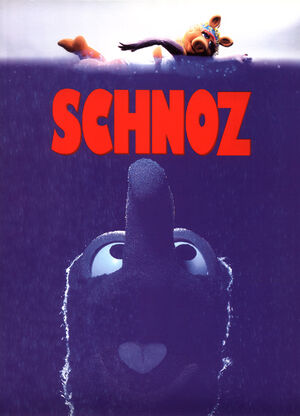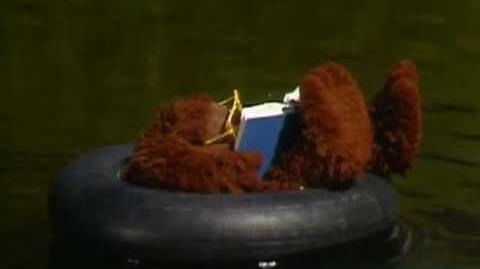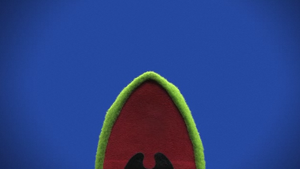 Jaws is a 1975 thriller directed by Steven Spielberg, with music by John Williams. The first blockbuster of its kind was based on a best-selling novel by Peter Benchley set in Martha's Vineyard, Massachusetts. The plot of the film centers around a town sheriff who finds himself in a new job just as a great white shark begins to terrorize the waters of a local beach.
Despite the film's reputation for decreasing beach attendance in the years following its release, Jaws spawned several sequels and video games, and has been subject to a number of spoofs and parodies in its honor.
References
In the At the Dance sketch from episode 215 of The Muppet Show, a whatnot asks his dance partner what she thought of the movie Jaws. In reply, she turns to the camera to reveal a full set of razor sharp teeth.
The score for a scene with Gonzo sneaking up on Rowlf underwater in Rocky Mountain Holiday spoofs Williams' famous two-note motif. The home video release replaced this music with something more generic.
Miss Piggy tours the Universal Studios theme park in California, singing "That's Entertainment" in Miss Piggy's Hollywood. One of the attractions shown during the song montage is the Universal Studios Backlot Tour featuring the shark from the movie. Piggy reacts to the shark's "leaping" out of the water toward her in the tour vehicle.
A Brief History of Motion Pictures features a shark who chases several characters, underscored by the Williams score. As a twister approaches, he looks to the camera and says, "Just when I thought it was safe!," paraphrasing the famous tagline used to promote the film's theatrical release.
The music was again referenced on Sesame Street in a series of live-action shorts in which the camera films a pool full of children from underwater and builds up to a climax with the Jaws theme to reveal a letter of the alphabet.
Dorothy imagines Elmo as a construction worker in Elmo's World: Open and Closed. Elmo addresses the "jaws" portion of a vehicle when attempting to pick up a teddy bear. Although the term appears coincidental, John Williams' famous two-note motif from the film is referenced in the underscore for the scene.
A video created for Disney Xtreme Digital features Kermit's impression of Jaws as he pans his open mouth past the frame. Williams' two-note motif is used to accent the impression.
In the Muppet Babies episode "I Want My Muppet TV!," Baby Animal attacks his friends in a cardboard box boat with a fin attached to his back and announces himself as "Animal Jaws" before he takes a bite out of their boat.
During a June 12, 2012 appearance on the London radio program Heart Breakfast, Pepe says that his favorite movie is Jaws.
A portion of the Jaws theme is incorporated into the melody of "Between You and Me" when a shark appears.
Connections