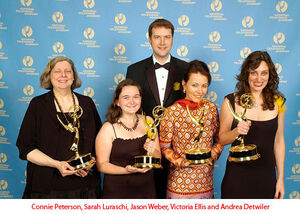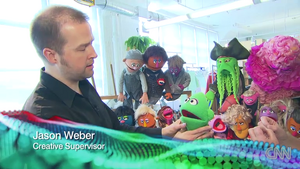 Jason Weber started out at the Jim Henson Company as the official dyer. He has been responsible for all puppets, clothing, or anything else that need color or texture. As of 2006, he was in charge of the Sesame Street Muppets. He has shared an Emmy Award for his work on Sesame Street.
Weber designed the outfit for Super Grover 2.0.[1]
On July 4, 2013, Weber appeared on "The Art of Movement," a CNN segment hosted by Nick Glass, demonstrating the puppet building process. Eric Jacobson took over teaching the aspect of puppetry to Glass.
Credits
Sources
↑ Ryan Dosier, "Interview with Sesame Street's Louis Henry Mitchell, Part 3", The Muppet Mindset blog, November 29, 2010.
Ad blocker interference detected!
Wikia is a free-to-use site that makes money from advertising. We have a modified experience for viewers using ad blockers

Wikia is not accessible if you've made further modifications. Remove the custom ad blocker rule(s) and the page will load as expected.