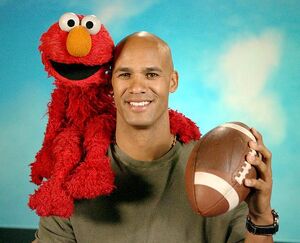 Jason Taylor (b. 1974) is a former American football defensive end of the National Football League. He was originally drafted by the Miami Dolphins in the third round of the 1997 NFL Draft and played most of his career there, but also played for the Washington Redskins and the New York Jets. He played college football at Akron.
Taylor appeared in Sesame Street's 39th season where he introduced the word of the day, toss.
Taylor was also a contestant on season six of Dancing with the Stars, where he was the runner up to Kristi Yamaguchi.
Ad blocker interference detected!
Wikia is a free-to-use site that makes money from advertising. We have a modified experience for viewers using ad blockers

Wikia is not accessible if you've made further modifications. Remove the custom ad blocker rule(s) and the page will load as expected.