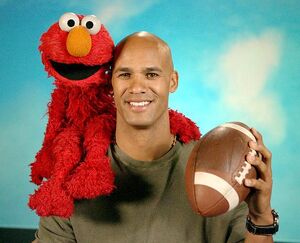 Jason Taylor (b. 1974) is an American football defensive end for the Washington Redskins of the National Football League. He was originally drafted by the Miami Dolphins in the third round of the 1997 NFL Draft. He played college football at Akron.
Taylor appeared in Sesame Street's 39th season where he introduced the word of the day, toss.
Taylor was also a contestant on season six of Dancing with the Stars, where he was the runner up to Kristi Yamaguchi.