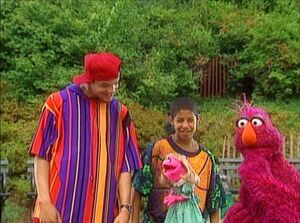 Jason Samuels Smith (b. 1980) is a New York-based tap dancer.
At age 9, Smith appeared on Sesame Street alongside fellow tap dancer Savion Glover.[1] He later appeared alongside Glover (now a series regular, playing Savion) in the 25th anniversary special Sesame Street Jam: A Musical Celebration, dancing with Glover in the "New Way to Walk" sequence, which would also be featured on the show. Some of Smith's scenes are retained in the home video version of the special, which omits "A New Way to Walk."
Sources
↑ Performing Arts Encyclopedia from the Library of Congress
Ad blocker interference detected!
Wikia is a free-to-use site that makes money from advertising. We have a modified experience for viewers using ad blockers

Wikia is not accessible if you've made further modifications. Remove the custom ad blocker rule(s) and the page will load as expected.