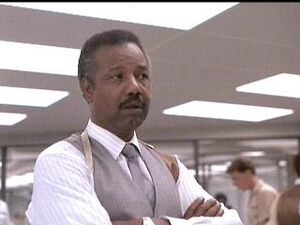 Jason Bernard (1938-1996) was a character actor in film and television, known for his smooth deep voice, who was heard in Dinosaurs as Edward R. Hero in the episode "And the Winner Is...".
Bernard was a familiar face on television, playing Inspector Marquette on Cagney and Lacey, plant worker Caleb Taylor in the miniseries V and its sequel, Preston Wade on Days of Our Lives, and humorless boss Mr. Bracken on the sitcom Herman's Head (with Yeardley Smith and Ken Hudson Campbell). He also portrayed Martin Luther King in a 1987 PBS special The Meeting, and guest starred on The Cosby Show, The Flash (as retired hero Nightshade), Night Court, and The Jeffersons. His film credits include Car Wash, WarGames, While You Were Sleeping (as Sandra Bullock's patient employer), and Liar Liar (with Jim Carrey, as Judge Stevens, his final role).
External links
Ad blocker interference detected!
Wikia is a free-to-use site that makes money from advertising. We have a modified experience for viewers using ad blockers

Wikia is not accessible if you've made further modifications. Remove the custom ad blocker rule(s) and the page will load as expected.