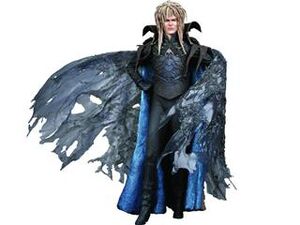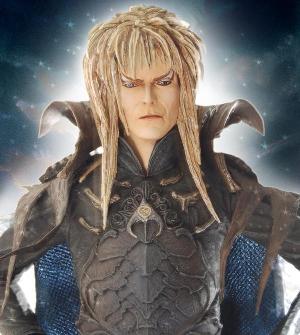 NECA (National Entertainment Collectibles Association) announced at Toy Fair in October 2006 that they will be releasing a Jareth the Goblin King figure, with the likeness of David Bowie, under their "Cult Classics Presents" banner.
The figure features Jareth in his blue outfit from his first appearance in the film, and was released in April 2007.
A 12-inch talking Jareth action figure of similar design is planned for release in September 2007; and a second Jareth figure is planned for release in "fall 2007" featuring the Goblin King in a different outfit.
Notes
Palisades Toys announced plans for a Jareth figure a year earlier, in October 2005. The Palisades figure was developed, shown and placed up for pre-ordering online with release planned for the spring of 2006. However Palisades was bought out and closed before the figure was released. Although the NECA figure is of the same subject, the NECA figure is a different design and model from the product Palisades had designed and publicized months prior.
Sources
Ad blocker interference detected!
Wikia is a free-to-use site that makes money from advertising. We have a modified experience for viewers using ad blockers

Wikia is not accessible if you've made further modifications. Remove the custom ad blocker rule(s) and the page will load as expected.