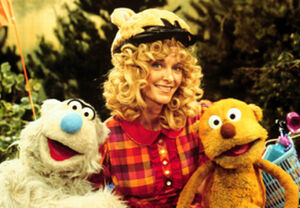 Janet-Laine Green is a Toronto-based actress who has starred in the Canadian television series The Beachcombers. She is a multiple Genie and Gemini Best Actress Nominee (the Canadian equivalent of Emmy and Oscar nominations) for her performances in such films as Transit of Venus The Shower and Cowboys Don't Cry. A stage veteran, the Theater Saskatchewan established the Janet-Laine Green Lifetime Achievement Award. As a voice actress, Green has been heard in several Nelvana television series, including The Care Bears (Wish Bear) and Mythic Warriors (as Hera).
In 2001, she guest starred on Sesame Park as a bike-riding Goldilocks.
External Links
Ad blocker interference detected!
Wikia is a free-to-use site that makes money from advertising. We have a modified experience for viewers using ad blockers

Wikia is not accessible if you've made further modifications. Remove the custom ad blocker rule(s) and the page will load as expected.