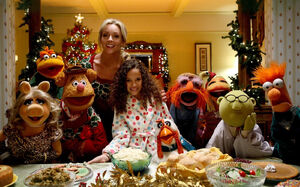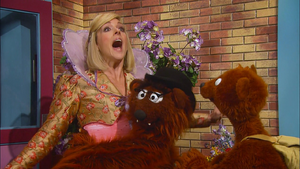 Jane Krakowski (b. 1968) is a Broadway, film and television actress who is best-known for her roles on Ally McBeal and 30 Rock.
Krakowski appeared in the 2008 special A Muppet Christmas: Letters to Santa as Claire's mom. In the same year and in 2009 she hosted the annual TV special Christmas in Rockefeller Center, both of which included guest appearances by the Muppets.
Krakowski also played Betty O'Shale in the 2000 film The Flintstones in Viva Rock Vegas, which included puppets by Jim Henson's Creature Shop.
Krakowski made a guest appearance in a season 45 episode of Sesame Street.[1]
Krakowski's extensive Broadway credits include a Tony award winning role in Nine (based on Federico Fellini's 8 1/2), Grand Hotel (with Michael Jeter), and Once Upon a Mattress (with Sarah Jessica Parker).
Emmy nominated for the soap opera Search for Tomorrow, Krakowski has also been a regular on Ally McBeal and the NBC sitcom 30 Rock (with Tina Fey).
Krakowski was one of many actresses to audition for the role of Sarah in Labyrinth.[2]
External links
Sources
↑ Ed Sheeran, Macklemore Hit Sesame Street The Hollywood Reporter by Chris Payne, (for Billboard) Nov 22, 2013
Ad blocker interference detected!
Wikia is a free-to-use site that makes money from advertising. We have a modified experience for viewers using ad blockers

Wikia is not accessible if you've made further modifications. Remove the custom ad blocker rule(s) and the page will load as expected.