Ad blocker interference detected!
Wikia is a free-to-use site that makes money from advertising. We have a modified experience for viewers using ad blockers

Wikia is not accessible if you've made further modifications. Remove the custom ad blocker rule(s) and the page will load as expected.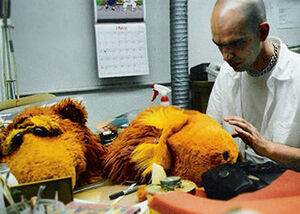 James William Wojtal, Jr. (b. February 24, 1975, pronounced "Voy-tal") is a puppet fabricator, designer and performer who worked for the Jim Henson Company from 1998 to 2002, mostly on international versions of Sesame Street, Bear in the Big Blue House and Mopatop's Shop, building new characters and refurbishing old ones.
Credits
Non-Muppet projects
Imaginocean the Musical -- lead Puppeteer "TANK"
Avenue Q, London -- shop manager, puppet builder
Avenue Q, Off Broadway, Broadway, Las Vegas -- puppet builder
Crank Yankers -- puppet builder
Saturday Night Live -- puppet builder, props
Wicked -- sculpture, prop builder, puppet builder
The Puppet Works Theater -- puppeteer, puppet designer
The Smoking Gun -- art department, puppeteer, puppet builder
Macy's Thanksgiving Day Parade Studio -- sculpture, puppet designer
Ruby Tuesday Chicken commercials
Sony Bravia Mexico commercial
Planet Camp
College Humor skits -- puppet designer, builder, lead puppeteer (Pot Cookie Monster, Vampire Reunion, Kiss The Girl Continued, Katy Perry Puppet Sex Dream)
The Special Skins -- puppet designer, puppeteer
"Sugar Baby" by Morningwood, music video -- puppet designer, performer
The Smurfs -- puppet designer, puppet captain
Morning Glory -- puppeteer, extra
Last Week Tonight with John Oliver -- performer
External links
Sources
↑ Wojtal, James The MuppetCast episode 27