James Wojtal
Talk

0
26,858pages on
this wiki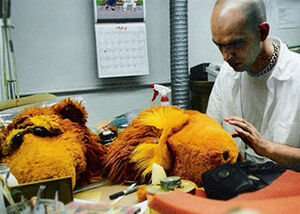 James William Wojtal, Jr. (pronounced "Voy-tal") is a puppet fabricator and designer who worked for the Jim Henson Company from 1998 to 2002, mostly on international versions of Sesame Street, Bear in the Big Blue House and Mopatop's Shop, building new characters and refurbishing old ones.
Wojtal, is currently a freelance Puppet designer, and Builder for Hire, as well as a Puppet perfomer. for info write to wojtaljr@gmail.com.
Credits
Non-Muppet projects
Imaginocean the Musical Lead Puppeteer "TANK"
Avenue Q, London -- shop manager, puppet builder
Avenue Q, Off Broadway, Broadway, Las Vegas -- puppet builder
Crank Yankers -- puppet builder
Saturday Night Live -- puppet builder, props
Wicked -- sculpture, prop builder, puppet builder
The Puppet Works Theater -- puppeteer, puppet designer
The Smoking Gun TV show -- art department, puppeteer, puppet builder
Macy's Parade Studio -- sculpture, puppet designer
Ruby Tuesday Chicken Commercials,
Sony Bravia Mexico Tv Commercial
Planet Camp (Tv Pilot)
College humor, Parodies, Puppet designer, Builder,lead puppeteer (Pot Cookie Monster,Vampire Reunion,Kiss The Girl Continued,Katy Perry Puppet Sex Dream )
The Special Skins, PILOT,Puppet designer ,Lead Puppeteer
Morningwood Music video "SUGAR BABY" puppet designer, Puppet perfromer
THE SMURFS 2010 Feature Film, Puppet designer,Puppet Captain
Morning Glory feature film, puppeteer ,extra)
Numerous freelance puppet builds and work-for-hire.
email wojtaljr@gmail.
External links
Sources
↑ Wojtal, James The MuppetCast episode 27