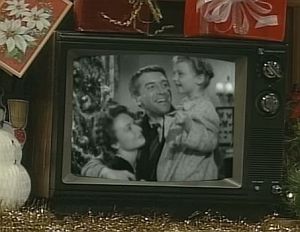 James Stewart (1908-1997), popularly known as Jimmy Stewart, was an American film and stage actor. He was known for his distinctive voice, with a rather hesitant delivery, and humble movie persona. Over the course of his career, he has starred in many films and became a major MGM star. He also served in the military during WWII, flying overseas.
Some of Stewart's most notable films include his work with directors Frank Capra (You Can't Take It with You, Mr. Smith Goes to Washington, and It's a Wonderful Life), Alfred Hitchcock (Rope, Rear Window, The Man Who Knew Too Much, and Vertigo), and the 1950 film version of Harvey (as gentle dipsomaniac Elwood Dowd, reprising the role he'd created on stage). Beginning in the 1950s, he also became a familiar face in Westerns and, on radio, starred as The Six Shooter (1954).
References
In episode 204 of The Muppet Show, Rich Little is asked by the Muppet press who his favorite impression is. Little says it's Jimmy Stewart, his favorite actor (spoken while imitating Stewart).
External links