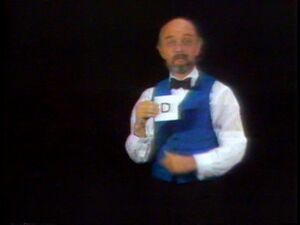 James Randi (b. 1928) is a stage magician and skeptic, who is known by his stage name "The Amazing Randi". He is a well-known challenger of paranormal claims and pseudoscience. Randi appeared in segments during the pilot Sesame Street Test Show 1, involving the letter D.
On television, Randi made 32 appearances for Johnny Carson on The Tonight Show. He has also appeared on Happy Days, Anderson Cooper 360, The Oprah Winfrey Show, Larry King Live, CBS This Morning, Today, The View and multiple appearances with Penn and Teller.
External links
Ad blocker interference detected!
Wikia is a free-to-use site that makes money from advertising. We have a modified experience for viewers using ad blockers

Wikia is not accessible if you've made further modifications. Remove the custom ad blocker rule(s) and the page will load as expected.