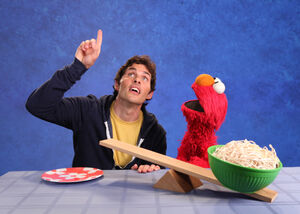 James Paul Marsden (b. 1973) is an American actor, singer and former Versace model best known for playing Cyclops in the first three X-Men films.
Marsden will appear on Sesame Street to explain the word "engineer" in a Season 42 Word of the Day segment.
Other film credits include Hop, Superman Returns, Hairspray, Enchanted' and 27 Dresses. His television credits include appearances on The Nanny, Saved by the Bell, Party of Five and Ally McBeal.
External links