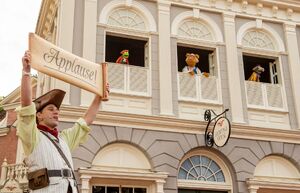 James Jefferson is a human character who appears in The Muppets Present… Great Moments in American History at Walt Disney World. James Jefferson (also known as "JJ") is a Revolutionary history buff who serves as the Town Crier of Liberty Square at the Magic Kingdom.
A Disney Parks casting description posted in July 2016, described the role as follows:
male improvisational actor (must portray 20-30 years old) who sings, 5'10" and taller, to be James Jefferson, "JJ", Town Crier of Liberty Square. JJ is a Revolutionary history buff who delights in sharing his knowledge of the Colonial era and Liberty Square with anyone who will listen, and he has teamed up with his good friends Sam Eagle, Kermit the Frog, Miss Piggy and others to share some great moments in American history![1]
Sources
Ad blocker interference detected!
Wikia is a free-to-use site that makes money from advertising. We have a modified experience for viewers using ad blockers

Wikia is not accessible if you've made further modifications. Remove the custom ad blocker rule(s) and the page will load as expected.