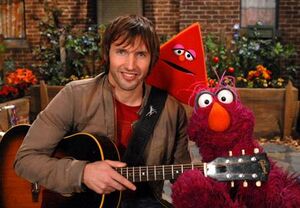 James Blunt is an English singer/songwriter best known for the number one hit "You're Beautiful", from his 2005 debut album, Back to Bedlam.
In November 2006, Blunt filmed a segment with Telly Monster, for the 38th season of Sesame Street. He sings about triangles, to the tune of "You're Beautiful", the number one hit that brought him to fame in 2005.
In 2011, he commented that it was the favourite moment of his career. "It was Elmo who phoned and asked me if I'd do it. And the only embarrassment was that Telly Monster's voice was about an octave lower than mine, but it was the highlight of my career. To get the word 'hypotenuse' in any song is pretty special."[1]
Sources
↑ "James Blunt", Cambridge News, February 28, 2011.
External links
Ad blocker interference detected!
Wikia is a free-to-use site that makes money from advertising. We have a modified experience for viewers using ad blockers

Wikia is not accessible if you've made further modifications. Remove the custom ad blocker rule(s) and the page will load as expected.