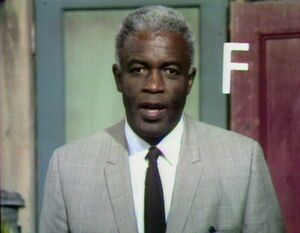 Jackie Robinson (1919-1972) was the first African-American Major League Baseball player. He played with the Brooklyn Dodgers from 1947 to 1956, and he was named the National League's Most Valuable Player in 1949.
Robinson recorded an insert for the first season of Sesame Street, saying the alphabet. Robinson's insert was included in a number of episodes, beginning with episode 0054.
The clip appeared on Old School: Volume 1.
Robinson was spoofed with the character Jackie Robinsegg on the Bear in the Big Blue House episode "At the Old Bear Game".
Ad blocker interference detected!
Wikia is a free-to-use site that makes money from advertising. We have a modified experience for viewers using ad blockers

Wikia is not accessible if you've made further modifications. Remove the custom ad blocker rule(s) and the page will load as expected.