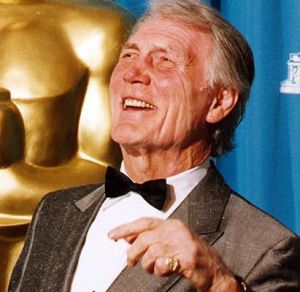 Jack Palance (1919-2006) was an actor known for playing tough guy roles, from Western heavies (as in 1953's Shane) to barbarians and warriors (Attila the Hun in Sign of the Pagan) to dictators (Fidel Castro to Omar Sharif as Che!) Later roles included mob bosses in the 1989 Batman and Tango & Cash, and a rare comedic turn as Curly in 1991's City Slickers. The latter earned Palance an Academy Award for Best Supporting Actor (after two nominations early in his career). During his acceptance, the then 73-year old Palance famously dropped to the floor to perform one-handed push-ups.
References
In a Grover and Mr. Johnson sketch, exercise instructor Grover deals with his off-camera celebrity clients. He calls "Very good, Mr. Palance. Now drop and give me twenty," then notes "You're allowed to use the other hand, you know" in reference to Palance's one-handed push-ups.
Ad blocker interference detected!
Wikia is a free-to-use site that makes money from advertising. We have a modified experience for viewers using ad blockers

Wikia is not accessible if you've made further modifications. Remove the custom ad blocker rule(s) and the page will load as expected.