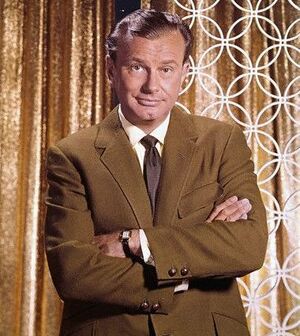 Jack Paar (1918-2004) was a radio and television personality who hosted an early version of The Tonight Show (Tonight with Jack Paar; 1957-1962) and later The Jack Paar Program (1962-1965). On both series, he played host to early variety show appearances by Jim Henson and the Muppets.
Paar began his career on radio, as an announcer and disc jockey and then with his own The Jack Paar Show in 1947 (initially as a summer replacement for Jack Benny). He also appeared on various TV game shows, including What's My Line? and To Tell the Truth.
References
In the March 19, 1964 broadcast of The Jimmy Dean Show, Jimmy Dean talks about how cats insist on going their own way and won't take orders from anybody. Rowlf doubts the hyperbole and asks, "Are you talking about this cat or Jack Paar?"
Ad blocker interference detected!
Wikia is a free-to-use site that makes money from advertising. We have a modified experience for viewers using ad blockers

Wikia is not accessible if you've made further modifications. Remove the custom ad blocker rule(s) and the page will load as expected.