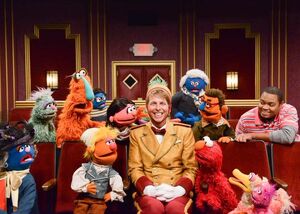 Jack McBrayer (b. 1973) is an American comedic actor whose notable roles include Kenneth Parcell on 30 Rock, Fix-It-Felix Jr. in Disney's Wreck-It Ralph, and various recurring characters on Late Night with Conan O'Brien.
McBrayer played an usher (whose name tag reads "McBrayer") in a season 45 episode of Sesame Street.
Ad blocker interference detected!
Wikia is a free-to-use site that makes money from advertising. We have a modified experience for viewers using ad blockers

Wikia is not accessible if you've made further modifications. Remove the custom ad blocker rule(s) and the page will load as expected.