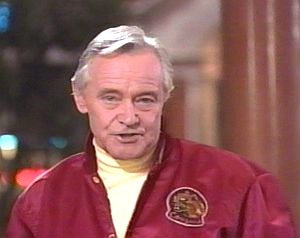 Jack Lemmon (1925-2001) was a two-time Academy Award-winning actor and comedian who starred in such varied films as Mister Roberts, Save the Tiger, The Great Race, and Glengarry Glen Ross, and was often teamed with Walter Matthau (The Odd Couple, The Fortune Cookie, 1974's The Front Page, Grumpy Old Men, etc.)
In 1990, he appeared in The Earth Day Special as Coach Stewart, becoming part of the all-star cast along with Kermit the Frog. Lemmon was later spoofed in Muppet Parodies 1998 Calendar, with Statler and Waldorf as Matthau and Lemmon from Grumpier Old Men.
Trivia
Sources
External links
Ad blocker interference detected!
Wikia is a free-to-use site that makes money from advertising. We have a modified experience for viewers using ad blockers

Wikia is not accessible if you've made further modifications. Remove the custom ad blocker rule(s) and the page will load as expected.