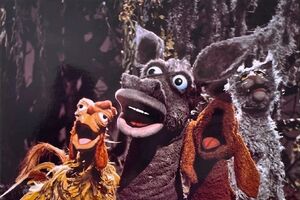 Jack Elliott (1927-2001) composed the music for The Muppet Musicians of Bremen.
A successful composer for film, television, theater and other mediums, Jack Elliot was involved with many musical endeavors throughout his career. He was the co-founder and music director for the American Jazz Philharmonic and creator of the Henry Mancini Institute. He scored films like Oh, God! and The Jerk and served as music director for The Grammy Awards show for 30 years. He also wrote the instrumental theme songs to Barney Miller and Night Court.
External links
Ad blocker interference detected!
Wikia is a free-to-use site that makes money from advertising. We have a modified experience for viewers using ad blockers

Wikia is not accessible if you've made further modifications. Remove the custom ad blocker rule(s) and the page will load as expected.