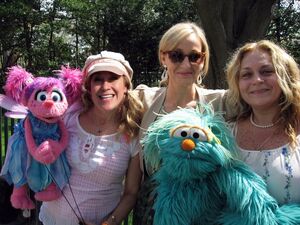 J. K. Rowling is a novelist best known for writing the Harry Potter series from 2001 to 2011. Her other books include The Casual Vacancy in 2012, and The Cuckoo's Calling published in 2013 under the pseudonym "Robert Galbraith."
In 2010, she appeared at The White House Easter Egg Roll with Abby Cadabby and Rosita.
Rowling was the first recipient of "The Jim Henson Celebration Honor" awarded by The Jim Henson Company in 2005. She received the honor on the grounds of her "imagination and originality in creating the fantastical world of Harry Potter and for the amazing impact these books have had around the world."[1]
Sources
Ad blocker interference detected!
Wikia is a free-to-use site that makes money from advertising. We have a modified experience for viewers using ad blockers

Wikia is not accessible if you've made further modifications. Remove the custom ad blocker rule(s) and the page will load as expected.