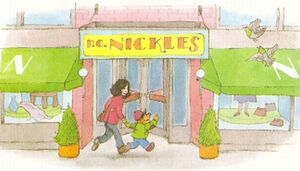 J. C. Penney is an American department store. Its photo departments offer Sesame Street themed portraits, as of 2007.[1]
References
In Miss Piggy's Rules, the department store is referred to as a real person who throws himself off a thirty-story building when offered the opportunity to spend an evening with Miss Piggy.
Sources
↑ Michael Stetz, "Paper industry must love the modern receipt", San Diego Metro News, September 3, 2007.