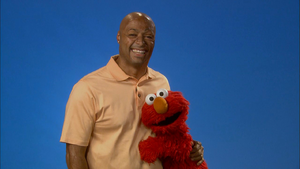 J.R. Martinez (b. 1983) is an American actor and motivational speaker, known for portraying Brot Monroe on All My Children. In 2003, he was greatly injured while serving in the army in Iraq. Following his injury, he began touring as a motivational speaker, talking about his war experience.
Martinez appeared in a season 44 episode of Sesame Street, explaining how to manage feelings to Elmo, in a scene written by Christine Ferraro[1] (YouTube)
Sources
↑ "J.R. Martinez talks about feelings on 'Sesame Street' with Elmo -- VIDEO". Rome, Emily. Entertainment Weekly. October 23, 2013.
Ad blocker interference detected!
Wikia is a free-to-use site that makes money from advertising. We have a modified experience for viewers using ad blockers

Wikia is not accessible if you've made further modifications. Remove the custom ad blocker rule(s) and the page will load as expected.