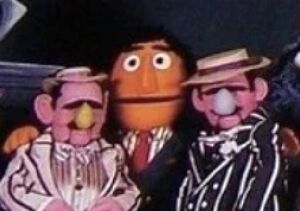 Izzie Great is one of the two main antagonists in the Sesame Street Live show Big Bird Goes Hollywood. He and his brother Wuzzy Wonderful attempt to sabotage the Sesame Street gang's efforts in making a movie in order to regain the movie studio they lost to Guy Smiley earlier on in the show.
Ad blocker interference detected!
Wikia is a free-to-use site that makes money from advertising. We have a modified experience for viewers using ad blockers

Wikia is not accessible if you've made further modifications. Remove the custom ad blocker rule(s) and the page will load as expected.