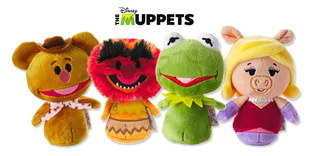 Itty Bittys is a collectible plush toy line by Hallmark released in 2014. The miniature plushes are cute stylizations of popular characters from franchises such as Disney (including Pixar and Winnie the Pooh), Marvel, DC Comics, Star Wars and The Wizard of Oz.
The Muppets set of Itty Bittys plushes includes four Muppets characters: Kermit the Frog, Miss Piggy, Animal and Fozzie Bear.
Ad blocker interference detected!
Wikia is a free-to-use site that makes money from advertising. We have a modified experience for viewers using ad blockers

Wikia is not accessible if you've made further modifications. Remove the custom ad blocker rule(s) and the page will load as expected.