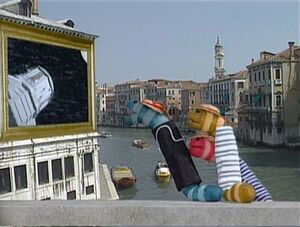 Italy is a country in southern Europe.
Sesamo Apriti began airing in 1971.
Sesame English has aired there since 2004, as has Il Mondo di Elmo.
Spaghettini, a worm from Italy, was one of the brave worm astronauts who traveled to the Moon in the wormship Wiggleprise. He also participated in the Worm's Summer Games.
Scoop and Skip visit the Leaning Tower of Pisa in a Wilson's Meats commercial.
German Sesamstrasse character Wolf vom Wörtersee originally hails from Italy, as evidenced by his strong Italian accent and love for the country's cuisine.
In the original Pajanimals musical shorts from 2008, Cow Bella has an Italian accent. In the 2011 series, however, she appears to have lost it.
Ad blocker interference detected!
Wikia is a free-to-use site that makes money from advertising. We have a modified experience for viewers using ad blockers

Wikia is not accessible if you've made further modifications. Remove the custom ad blocker rule(s) and the page will load as expected.