Written by
Edward Pola and George Wyle
Date
1963
Publisher
Barnaby Music Corp (ASCAP)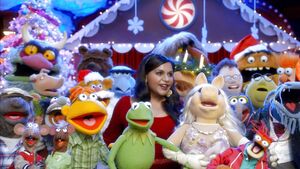 "It's the Most Wonderful Time of the Year" is a popular Christmas song written in 1963, and recorded that year by Andy Williams for his first Christmas album.
Elmo and Telly sing a rendition of the song on Elmo Saves Christmas: Holiday Favorites. This version is also available on the digital albums Christmas Collection and Holiday Classics.
The song was sung by Gonzo and Rizzo on A Green and Red Christmas. In the song, Gonzo convinces Rizzo that Christmas is the best time of the year (not just one of the top ten), Rizzo is convinced when he remembers all the great food the holiday brings - although he does make a strong argument that Cinco de Mayo is just as good.
The Muppets performed the song in a 2009 appearance on Christmas in Rockefeller Center. The Green and Red recording is reused here, with added verses from Fozzie, Kermit, Miss Piggy and Pepe.
Mindy Kaling and the Up Late with Miss Piggy staff sang the song in The Muppets episode "Single All the Way".
Ad blocker interference detected!
Wikia is a free-to-use site that makes money from advertising. We have a modified experience for viewers using ad blockers

Wikia is not accessible if you've made further modifications. Remove the custom ad blocker rule(s) and the page will load as expected.