Ad blocker interference detected!
Wikia is a free-to-use site that makes money from advertising. We have a modified experience for viewers using ad blockers

Wikia is not accessible if you've made further modifications. Remove the custom ad blocker rule(s) and the page will load as expected.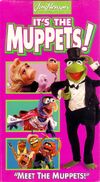 It's the Muppets!: Meet the Muppets! is a compilation video of some of the best clips from The Muppet Show, released by Jim Henson Video in 1993. A similar video, More Muppets, Please!, was also released simultaneously.
Unlike the Playhouse Videos, these videos don't have any guests star clips or new footage.
The UK release of this video has more sketches than the American release.

Clips
Picture
Segment
Description
Source

Theme

The Muppet Show Theme (over compilation of clips)
Various episodes

Montage

Kermit's Introduction
Episode 424, Episode 409, Episode 109

Episode fragments

"I Get Around," plus Statler & Waldorf's comments, backstage scenes
Episode 415: Anne Murray

Song

"I Got Rhythm"
Episode 420: Alan Arkin

Sketch

Muppet News Flash: exploding news reporters
Episode 209: Madeline Kahn

Song

"Pig Calypso," plus Statler & Waldorf's comments
Episode 221: Bob Hope

Sketch

Kermit's karate chop
Episode 422: Andy Williams

Song

"Mahna Mahna," plus Statler & Waldorf's comments
Episode 101: Juliet Prowse

Song

"Barnyard Boogie"
This segment was not included in the American version of the compilation.
Episode 504: Shirley Bassey




Episode fragments

Episode 410: Kenny Rogers

Song

"Coconut"

Episode 410: Kenny Rogers

Sketch

The Swedish Chef: Chocolate Moose
Episode 220: Petula Clark

Sketch

Gonzo practices fainting for Camilla
This sequence is shortened to remove Leslie Uggams, who appeared on-screen during this scene.
Episode 318: Leslie Uggams

Song

"Lullaby of Broadway," plus Statler & Waldorf's comments
Episode 304: Gilda Radner

Sketch

Kermit interviews the Koozebanian Phoob, the most tasty creature in the galaxy, who survives by evolving to blend in with whatever's nearby -- like Kermit.
This segment was not included in the American version of the compilation.
Episode 205: Judy Collins

Sketch

Gonzo visits Camilla's dressing room
Episode 318: Leslie Uggams

Sketch

Kermit meets Mickey Moose and Ronald Duck
Episode 220: Petula Clark

Sketch

Pigs in Space: Weight Problems
Although this sketch is from the fourth season, the Pigs in Space intro from the second season is used here.
Episode 420: Alan Arkin

Sketch

Phrenology
Episode 216: Cleo Laine

Song

"I Go to Rio"
Episode 424: Diana Ross

Sketch

Muppet Labs: Elevator Shoes
Episode 301: Kris Kristofferson & Rita Coolidge

Sketch

Chickens play "Down at Papa Joe's" on piano
Episode 207: Edgar Bergen

Sketch

Gonzo's hypnotism act, plus Statler & Waldorf's comments
Episode 324: Cheryl Ladd

Song

"Octopus' Garden"
Episode 312: James Coco

Closing

Closing Theme montage
(During the opening pan-out shot, used from episode 101, the third and fourth season's closing music is used, but then shifts back to the closing music from Season 1 during the Trumpet Girl's shot. This and the video sequel are the only video releases to mix the two different closing themes together.)
Episode 514, Episode 220, Episode 101, Episode 403, Episode 102
International versions