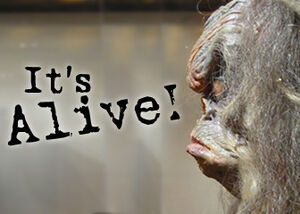 It's Alive!: Bringing Animatronic Characters to Life on Film was an exhibit hosted by the Academy of Motions Pictures Arts and Sciences from May 12 through August 20, 2006. The exhibit featured puppets made by Hollywood's leading animatronic artistes and companies.
Jim Henson's Creature Shop had many pieces on display from a variety of films, including The Dark Crystal, Labyrinth, Cats & Dogs, The Hitchhiker's Guide to the Galaxy, Dr. Dolittle and more.
On July 20, 2006, the Academy screened Labyrinth followed by a panel discussion with Brian Henson, Karen Prell, Dave Goelz, Brian Froud and others.
Gallery
External Links
Ad blocker interference detected!
Wikia is a free-to-use site that makes money from advertising. We have a modified experience for viewers using ad blockers

Wikia is not accessible if you've made further modifications. Remove the custom ad blocker rule(s) and the page will load as expected.