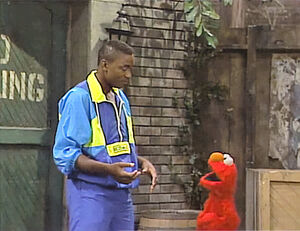 Isiah Thomas (b. 1961) is a former basketball player and coach who played for the Detroit Pistons from 1981 to 1994, during which he won two NBA Championships and was the 1990 NBA Finals MVP.
He appeared on Sesame Street with Elmo to show him how to dribble a basketball. (First: Episode 2877)
He also showed a girl how it takes practice to play basketball, but she happens to make a basket on her first try. (EKA: Episode 2933)
Ad blocker interference detected!
Wikia is a free-to-use site that makes money from advertising. We have a modified experience for viewers using ad blockers

Wikia is not accessible if you've made further modifications. Remove the custom ad blocker rule(s) and the page will load as expected.