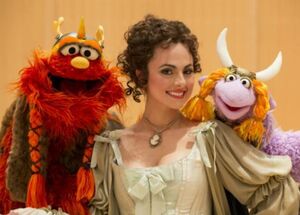 Isabel Leonard (b. 1982) is mezzo-soprano opera singer, having graduated from the Julliard School and doing various performances at Lincoln Center.
She appeared in the season 43 finale of Sesame Street in Murray Monster's "People in Your Neighborhood" segment. She explains what an opera is to Murray and Ovejita and allows him to sing a little in a short performance of the aria "Una voce poco fa" from The Barber of Seville.
Ad blocker interference detected!
Wikia is a free-to-use site that makes money from advertising. We have a modified experience for viewers using ad blockers

Wikia is not accessible if you've made further modifications. Remove the custom ad blocker rule(s) and the page will load as expected.