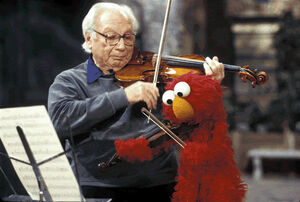 Isaac Stern (1920-2001) was a world-renowned violinist. Setting the stage for Big Bird's special three years later, Stern proved that Nixon wasn't the only one who could go to China in his 1980 Oscar-winning documentary, From Mao To Mozart. Itzhak Perlman and Yo Yo Ma are amongst those he's mentored.
He appeared on an episode of Sesame Street (c. 1990) with Elmo, together playing their violins. In another episode, he played violin for Big Bird and some kids. He was also included in a celebrity montage of "Sing" for the Sing! Sesame Street Remembers Joe Raposo and His Music documentary.
References
In a mock break-out quote on the back of the 1977 Sesame Street album Big Bird Leads the Band, Stern is one of several music personalities spoofed with bird names. Violinist Isaac Tern says "I haven't taken it off my terntable since I got it."
External links