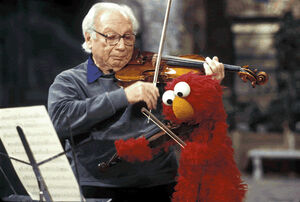 Isaac Stern (1920-2001) was a world-renowned violinist. Setting the stage for Big Bird's special three years later, Stern proved that Nixon wasn't the only one who could go to China in his 1980 Oscar-winning documentary, From Mao To Mozart. Itzhak Perlman and Yo Yo Ma are amongst those he's mentored.
Appearances
Stern appears in a Sesame Street segment (EKA: Episode 2760) playing Follow the Fiddler with Big Bird and the Kids in the Arbor. The kids are instructed to follow whatever it is he plays on the violin: the March from Sergei Prokofiev's The Love for Three Oranges (the kids march around), "Schön Rosmarin (Lovely Rosemary)" from Fritz Kreisler's Alt-Wiener Tanzweisen (a waltz), the second movement of Pyotr Ilyich Tchaikovsky's Violin Concerto (the kids quietly listen), and the Prokofiev march again to finish.
Around the same time, he appeared in a segment with Elmo, who plays his violin with the master.
References
In a mock break-out quote on the back of the 1977 Sesame Street album Big Bird Leads the Band, Stern is one of several music personalities spoofed with bird names. Violinist Isaac Tern (the same mispronunciation Big Bird uses in his appearance on the show) says "I haven't taken it off my terntable since I got it."
External links
Ad blocker interference detected!
Wikia is a free-to-use site that makes money from advertising. We have a modified experience for viewers using ad blockers

Wikia is not accessible if you've made further modifications. Remove the custom ad blocker rule(s) and the page will load as expected.