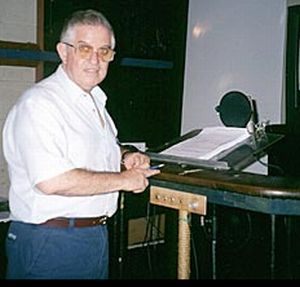 Isaac Schneider is a Brazilian voice actor who has participated in several of that country's Portuguese Muppet dubs. He voiced Gonzo in Um Conto de Natal dos Muppets (A Muppet Christmas Carol) and Os Muppets na Ilha do Tesouro (Muppet Treasure Island). He subsequently voiced Pepe in Muppets do Espaço (Muppets from Space).
Schneider's voice has been heard in the Harry Potter movies, dubbing Dobby the elf and, from Goblet of Fire onwards, Warwick Davis as Professor Flitwick. He also dubbed Marvel Comics character Professor X, first in the X-Men cartoon and then as played by Patrick Stewart in the movies. Other TV dub credits include Zordon in Mighty Morphin' Power Rangers and a brief Jeffersons clip of Sherman Hemsley in Everybody Hates Chris. Animation credits include Beauty and the Beast (Cogsworth), Justice League (Joker), Tiny Toon Adventures (Dizzy Devil), and Animaniacs (Dr. Scratchansniff), as well as assorted scientists (mad or otherwise) on other series.
Ad blocker interference detected!
Wikia is a free-to-use site that makes money from advertising. We have a modified experience for viewers using ad blockers

Wikia is not accessible if you've made further modifications. Remove the custom ad blocker rule(s) and the page will load as expected.