Ad blocker interference detected!
Wikia is a free-to-use site that makes money from advertising. We have a modified experience for viewers using ad blockers

Wikia is not accessible if you've made further modifications. Remove the custom ad blocker rule(s) and the page will load as expected.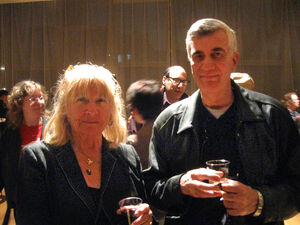 Irra Verbitsky (b. 1939) is an independent animator who contributed several films to Sesame Street. Verbitsky is also partner in a Polestar Studios with Don Duga. Verbitsky is actually now a professor at the School Of Visual Arts in New York.

Sesame Street Filmography
| Picture | Title/Topic | Earliest Known Appearance | Description |
| --- | --- | --- | --- |
| | Lost Kitty | Episode 1845 | A girl goes around the city to look for her lost kitty, and sees its image in a variety of signs and in nature. |
| | Baby Bird | Episode 1858 | A baby bird tries and tries again to fly from its nest. |
| | Curious Cat | Episode 1899 | A cat follows its ears to a squeaking noise, which he thinks is coming from mice, but it's coming from swings. |
| | Fruta Manzana | Episode 2040 | Fruta Manzana sings about being happy and healthy. |
| | Rabbits | Episode 2208 | Several rabbits try to pull a carrot out of the ground. |
| | Twelvia | Episode 2234 | The story of Twelvia. |
| | A Clock | Episode 2244 | Various sounds are demonstrated, including an alarm clock, a baby crying, a telephone, a faucet dripping, a boy sneezing, traffic horns honking, a helicopter, a police sirens, a motorcycle, and rain. |
| | Fruta Manzana | Episode 2358 | Fruta Manzana sings about keeping the place clean by throwing away fruit peels and apple cores. |
| | Dr. Frankenstein | Episode 2481 | Igor listens as Dr. Frankenstein names body parts in creating another Igor. |
| | Roses Are Red | Episode 2483 | A peasant tries to woo a pretty girl by reciting the famous "Roses are Red" poem. The lines are fed to him by a poet behind a bush, whom the girl eventually runs off with. |
| | Bus Stop | Episode 2505 | A woman displays a BUS STOP sign to a crowd. |
| | Magician's Bad Day | Episode 2609 | A magician writes in his diary about the many mishaps during his performance. |
| | R2-D2 | Episode 2956 | A tour of a TV studio, with set decoration, camera adjustment, etc., setting up for a taping with an R2-D2-like robot. |