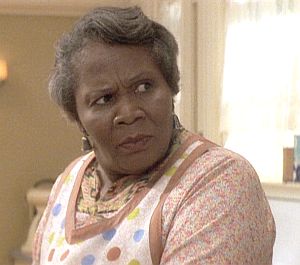 Irma P. Hall (b. 1935) is an acclaimed character actress who played Emma the maid in the Jim Henson's Creature Shop film Buddy, and starred as Marva Munson in The Ladykillers (which used Creature Shop effects).
A former teacher and nurse and Texas native , Hall entered acting at the age of 38, appearing in the 1973 independent film Book of Numbers and then in repertory in Dallas. Film and television gradually followed, including two appearances on Dallas as housekeeper Tillie, and small parts in The Babe, Backdraft, and Mo' Money. Although she continued to work steadily, she first gained national attention in 1996, for her portrayal of blind Aunt T. in A Family Thing (with James Earl Jones). She also played Big Mama Joe in the 1997 film Soul Food (with Vanessa Williams) and the TV spin-off, which ran from 2000 to 2002.
External links
Ad blocker interference detected!
Wikia is a free-to-use site that makes money from advertising. We have a modified experience for viewers using ad blockers

Wikia is not accessible if you've made further modifications. Remove the custom ad blocker rule(s) and the page will load as expected.