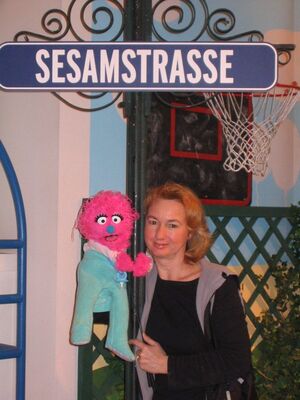 Iris Schleuss is a German puppeteer who performed Lena on Sesamstrasse, as well as minor guest characters. In the TV movie Das Geheimnis der Blumenfabrik (expanded from the Sesamstrasse spin-off Eine Möhre für Zwei), she plays the squirrel, Knuspel.
She also performed on the 1994 Creature Shop-effects film The Neverending Story III, assisting on Junior Rockchewer, Unlucky Rabbit and others.
Since 1996, Schleuss has performed many characters on the puppet series Käpt'n Blaubär, including Karin the flower. She has performed stage puppet shows for both children and adults.
External links
Ad blocker interference detected!
Wikia is a free-to-use site that makes money from advertising. We have a modified experience for viewers using ad blockers

Wikia is not accessible if you've made further modifications. Remove the custom ad blocker rule(s) and the page will load as expected.