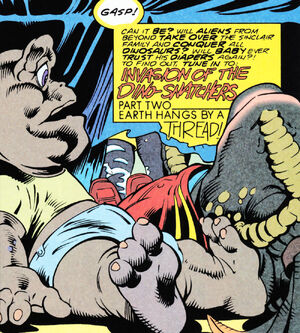 Invasion of the Body Snatchers is a 1956 horror film based on the novel The Body Snatchers. The film was selected for preservation by the United States National Film Registry as being "culturally, historically, or aesthetically significant," and the American Film Institute included the film in is top ten science fiction films.
References
In the Dinosaurs comic book, the film is spoofed in the second issue story "Invasion of the Dino-Snatchers."
External links
Ad blocker interference detected!
Wikia is a free-to-use site that makes money from advertising. We have a modified experience for viewers using ad blockers

Wikia is not accessible if you've made further modifications. Remove the custom ad blocker rule(s) and the page will load as expected.