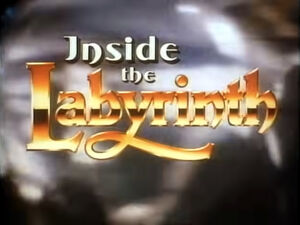 Inside the Labyrinth is a behind the scenes documentary about the movie Labyrinth. The special was originally released on February 18, 1987, and was included on the DVD release of the film.
This one-hour documentary details the technological effects, story development, animatronics and puppetry tricks, casting, music recording, film making, and Henson magic.
Interviewees
Credits
Photography: Rafi Rafaeli, Barry Ackroyd, John Warwick
Sound: Keith Desmond, Bob Alock, John Pierson, Alan Dykes
Editor: Arthur Solomon
Director: Des Saunders
Producers: Arthur Solomon, Anthony Goldsmith
Ad blocker interference detected!
Wikia is a free-to-use site that makes money from advertising. We have a modified experience for viewers using ad blockers

Wikia is not accessible if you've made further modifications. Remove the custom ad blocker rule(s) and the page will load as expected.