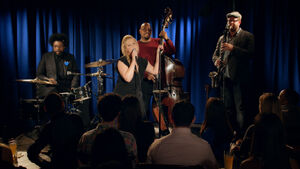 Inside Amy Schumer is a sketch comedy television series created by and starring Amy Schumer. The series premiered in 2013 on Comedy Central.
According to a 2013 interview, Schumer says "much of who I am comedically came from the Muppets."[1]
Muppet Mentions
The season 3 episode "12 Angry Men Inside Amy Schumer" features a spoof of the play 12 Angry Men in which a juror makes a case by stating "Look, we've all at some point in our lives gotten a semi for a girl with a pillowy stomach or Muppet tits, and that's all the system demands for us to acquit Amy."
In the fourth season episode "Everyone for Themselves" (originally aired on June 9, 2016), Schumer recreated Rita Moreno's performance of "Fever" from The Muppet Show with Questlove taking on Animal's role as the overzealous drummer. Schumer introduced the segment on air as a tribute to The Muppet Show and proclaimed that the doing the performance was simply her own personal self-indulgence as the show entered it's fourth season. In a tweet during the initial broadcast, Schumer revealed it was a dream to recreate her favorite Muppet Show bit.[2]
Connections
Sources
External links
Ad blocker interference detected!
Wikia is a free-to-use site that makes money from advertising. We have a modified experience for viewers using ad blockers

Wikia is not accessible if you've made further modifications. Remove the custom ad blocker rule(s) and the page will load as expected.