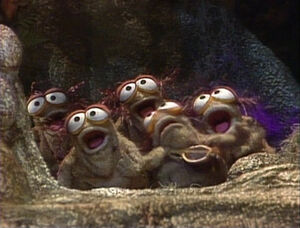 Inkspots are small, furry brown creatures who live in Fraggle Rock. They're often seen scurrying through the background, and they occasionally sing backup.
They were usually played by the Gorg suit performers -- Gord Robertson, Rob Mills, and Trish Leeper -- who used them to try to upstage everyone else.
An Inkspot was often seen in Muppets Tonight as a background crew member.
Filmography
Ad blocker interference detected!
Wikia is a free-to-use site that makes money from advertising. We have a modified experience for viewers using ad blockers

Wikia is not accessible if you've made further modifications. Remove the custom ad blocker rule(s) and the page will load as expected.