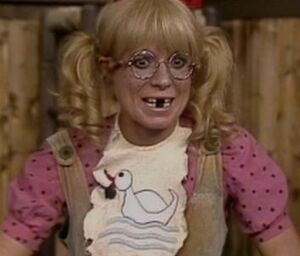 Ingrid Steeger (b. 1947) is a German actress, comedian, and pin-up model. After an early career mostly in exploitation films (such as The Sex Adventures of the Three Musketeers), she established herself in comedy, on the sketch series Klimbim (1973-1979). She played the Klimbim Family's bratty daughter Gabby, who visited Sesamstrasse in 1983 (repeated as episode 1142 in 1988).
Steeger played other roles on Klimbim, including a cabaret-style singer who performed while wearing a number. She followed Klimbim with similar comedy series Zwei himmlische Töchter (1978) and Susi (1980-1981). She also made guest appearances on Der Kommissar and Derrick.
External links
Ad blocker interference detected!
Wikia is a free-to-use site that makes money from advertising. We have a modified experience for viewers using ad blockers

Wikia is not accessible if you've made further modifications. Remove the custom ad blocker rule(s) and the page will load as expected.