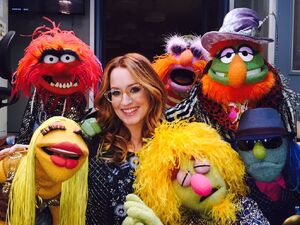 Ingrid Michaelson (b. 1979) is an American singer and songwriter. Her first album, Slow the Rain, was released in 2005, and she has since released five more albums, Girls and Boys, Be OK, Everybody, Human Again, and Lights Out. Her two highest-charting singles are "The Way I Am" and "Girls Chase Boys."
Michaelson appeared in The Muppets episode "Got Silk?" performing her song "The Way I Am."
Ad blocker interference detected!
Wikia is a free-to-use site that makes money from advertising. We have a modified experience for viewers using ad blockers

Wikia is not accessible if you've made further modifications. Remove the custom ad blocker rule(s) and the page will load as expected.