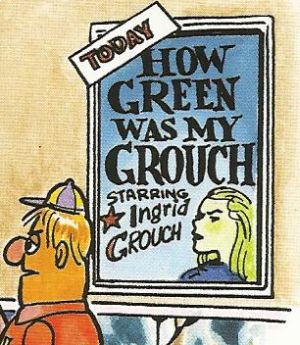 Ingrid Bergman (1925-1982) was an Academy Award-winning actress and an international film star, whose most iconic role was that of Ilsa Lund in the 1943 classic Casablanca (opposite Humphrey Bogart).
The Swedish-born actress was already a star in her home country before she began her Hollywood career in 1939. Some of her most notable films, apart from Casablanca, include Gaslight (1945, winning her first Oscar), Alfred Hitchcock's Spellbound (1945) and Notorious (1946), Anastasia (1956, her second Oscar win as the title character), The Inn of the Sixth Happiness (1958), and Murder on the Orient Express (1974, winning her final Oscar, this time for Best Supporting Actress as the Swedish missionary Greta)
References
In the 1976 book How to Be a Grouch, Oscar visits a grouch movie theater. A poster features actress Ingrid Grouch, starring in How Green Was My Grouch.
See also
Ad blocker interference detected!
Wikia is a free-to-use site that makes money from advertising. We have a modified experience for viewers using ad blockers

Wikia is not accessible if you've made further modifications. Remove the custom ad blocker rule(s) and the page will load as expected.