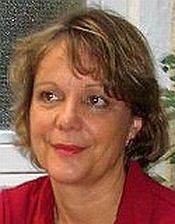 Inez Günther is a German voice actress who was heard in several 1980s Muppet dubs, as Cotterpin Doozer on Die Fraggles, Skeeter on Muppet Babies, and Mew and Jesse in Die wundersame Geschichte vom Weihnachtsspielzeug (The Christmas Toy), among others.
Günther's dubbing credits date back to the 1970s and encompass a range of animation, including Sailor Moon, Sheila in the anime Sindbad, Martin Prince on The Simpsons, the dragonfly on The Pink Panther Show, Daniel Witwicky on Transformers, Teebo on The Ewoks, and Gosalyn on Darkwing Duck. She has also dubbed such actresses as Megan Mullally on Will & Grace and Maureen McCormick on The Brady Bunch.
Ad blocker interference detected!
Wikia is a free-to-use site that makes money from advertising. We have a modified experience for viewers using ad blockers

Wikia is not accessible if you've made further modifications. Remove the custom ad blocker rule(s) and the page will load as expected.