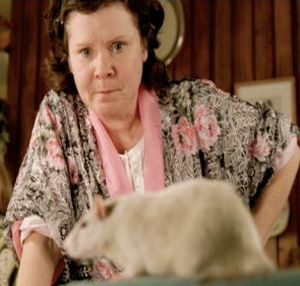 Imelda Staunton (b. 1956) is a British actress who, in 2005, received a Best Actress Academy Award nomination for her portrayal of the title character in Vera Drake. In 2000, Staunton starred as Conchita Flynn in the Jim Henson Pictures film Rat. In a behind the scenes featurette included on the DVD, Staunton gave a tongue-in-cheek recount of the pain and suffering she inflicted on the Creature Shop rat, causing the injured animatronic to suggest a lawsuit. Staunton defiantly welcomed any legal actions and threatened to crush the beast under her shoe.
The wife of actor Jim Carter, Staunton's other film work includes key supporting roles in Shakespeare in Love (as the nurse), Sense and Sensibility, Kenneth Branagh's Much Ado About Nothing, Bright Young Things, Crush (as Janine the police chief), Nanny McPhee, and Harry Potter and the Order of the Phoenix.
As a stage actress in the 1980s, she understudied Julia McKenzie as Adelaide in Guys and Dolls at the National Theatre and would later play the role proper in a revival in the 1990s. She has since played leading roles such as Mrs Lovett in Sweeney Todd, and Mama Rose in Gypsy (the latter in a production that also featured Louise Gold as Mazeppa).
External Links