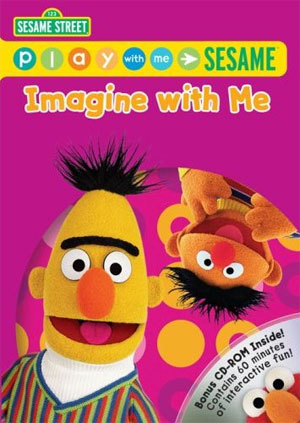 Imagine with Me is a Play With Me Sesame DVD, released on Region 1 DVD in 2008. It was previously released in region 4.
The DVD comes with a bonus CD-ROM.
Sketches
Ernie Says: up and down edition
Cookie Monster wants Prairie Dawn's cookie, and imagines many situations where he attempts to get the cookie.
"When we say 'play with me', you say 'Sesame'" - with laughter
Zoe talks about different and same
Ernie and Rubber Duckie play "Duckie Says."
Big Bird hides objects under three different sheets, and makes the sounds they make as hints for the viewer to guess what's under each one.
"When we say 'play with me', you say 'Sesame'" - quieter
Marshal Grover sees mirages of water.
Cookie Monster and Prairie Dawn play "Cookie Monster Says."
Zoe tells Elmo that she's imagining a great friend, and when she asks Elmo if he would like to, he says that he already has a great friend - Zoe.
Ernie and Bert imagine that a banana is a phone. (remake)
Grover pretends that he's on the moon.
Ernie and Mr. Sock, Ernie's sock puppet, convince Bert to play "Perfect Pairs."
Big Bird talks about the importance of listening.
The cast sings "When we say 'play with me' you say 'Sesame'," and Ernie comments that they took turns.
Humphrey thinks about the things that Baby Natasha could be when she grows up.
"Imagination" (remake)
Grover dances alongside film footage of kids dancing.
CD-Rom
Video: Kids observe tall buildings and make their own buildings out of blocks
Game: Explore Elmo's Classroom
Video: Kids tell Gordon what they see in the clouds
Game: Elmo's Clouds Game
Video: A girl narrates a film in which she and her friends make a mobile at the ocean
Game: A piece of paper transforms into various objects
Video: Grover's weather bulletin
Game: Zoe's Silly Seasons
Video: "Counting Vacation"
Game: Elmo's World: Weather Game
Video: "Eating Cookie"
Game: Zoe's Silly Seasons
Video: "Three of These Kids" with Luis voice-over
Game: Oscar's Trash Collection
Video: toy instrument patterns
Game: Zoe's Pet Center
Video: dice make patterns
Game: Telly's Crayons
Video: sorting black and white clothes
International releases
Ad blocker interference detected!
Wikia is a free-to-use site that makes money from advertising. We have a modified experience for viewers using ad blockers

Wikia is not accessible if you've made further modifications. Remove the custom ad blocker rule(s) and the page will load as expected.