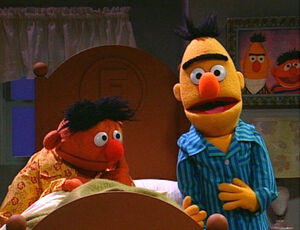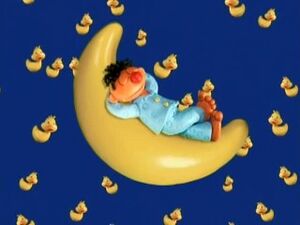 "Imagination", also known as the "Imagination Song," was first included on Havin' Fun with Ernie & Bert, a Sesame Street album from 1972. On the album version, Ernie tells the listeners to close their eyes to see what they can see with their eyes closed, and Bert, Big Bird, Herbert Birdsfoot, Prairie Dawn, Grover and Oscar the Grouch make comments before Ernie starts singing this song.
In the television version, this segment starts with Ernie telling Bert that he can't sleep because he is scared of monsters; not friendly monsters like the ones he knows, but scarier monsters who hide in the dark and go "wubba, wubba." Bert tells Ernie to imagine some things that he is not afraid of (primarily balloons of different sizes), and the pair sing the song.
An unaired version of this song was taped, in which Ernie's fear of monsters lurking outside is realized, in the form of transparent monsters (intended to signal to the audience that the monsters weren't real) which proceed to overrun Sesame Street and then invade the bedroom. Ernie desperately shouts, "Go away, bad things, go away!" Bert is roused and sings the song to comfort him. Tests with child audiences showed that children paid more attention to Ernie's fear than to the song itself, so the intended message was not fully comprehended. The prologue was subsequently omitted and the entire segment reworked.[1]
In 1998, this sketch was re-recorded on Sesame Street almost exactly the same way it was in the original televised version, but with updated versions of the puppets, and with Steve Whitmire performing Ernie. (First: Episode 3820)
Another version created for the video Bedtime with Elmo uses the footage from the 1998 version, but contains animated sequences by Misseri Studio.
Elmo also sang this song on The Best of Elmo CD.
On Sesamgade the song ("Fantasi-sangen") was one of the regular songs that was sung by Elmo and Signe. Abelardo sings the song to a pair of birds in his treehouse-nest in a Plaza Sésamo scene. (YouTube)
Releases
Ernie's version
Audio
Video
Publications
Elmo's version
Audio
See also
Sources