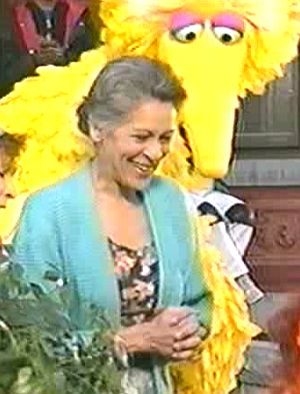 Ilka Tanya Payan (1943-1996) was a Dominican actress, attorney, and AIDS activist. She appeared in the 1991 video Sesame Street Home Video Visits the Firehouse as Delores, a kindly neighbor who offers Marge and Mr. Monster a place to stay while their house is repaired.
Payan starred on the US-produced telenovela Angelica, Mi Vida as the villainous Carmen Delia, and was active in the New York Spanish-language theater community. Concerned that she wouldn't be able to make a living from acting alone, she earned her law degree in 1981, specializing in immigration law. Her other credits included a guest spot on Hill Street Blues and parts in Scarface (with Michelle Pfeiffer and F. Murray Abraham) and the TV movie Florida Straits (with Raul Julia).
Ad blocker interference detected!
Wikia is a free-to-use site that makes money from advertising. We have a modified experience for viewers using ad blockers

Wikia is not accessible if you've made further modifications. Remove the custom ad blocker rule(s) and the page will load as expected.